Our in-house and very well-equipped Dyeing department with a production capacity of around 15,000 Kgs of dyeing per day allows us to fully meet our dyeing requirements. We have dyeing machines for dyeing cotton fabric and a fully computerized high temperature jet-dyeing machine to dye all kinds of synthetic fabrics including polyester and nylons. A well equipped Processing laboratory ensures all Lab test parameters. Dip dyed as per requirements and to be sure to get RFT results on ultra low liquor ratio for energy and environment conservation. A full range of washes and finishes are catered within the Dye House. The Fabric Processing Division has a capacity of dyeing 15000 kgs per day. It is equipped with, Sclavos, Fong's and THEN Airflow dyeing machines. It is capable of dyeing both 100% cotton and blended fabric. The machine size selection gives the flexibility in dyeing a lot size ranging from 10 kgs to 500 kgs. The department has two finishing lines from Brueckner Germany and One from Santex Switzerland as well as hydro extractors, Fongs BSD dryers and Ferraro Italian compactors. In order to maintain the quality of processed fabric, Mukha Industries's Dye house has the Quality Control laboratory with latest equipment to check the fabric performance standards.
---
Finishing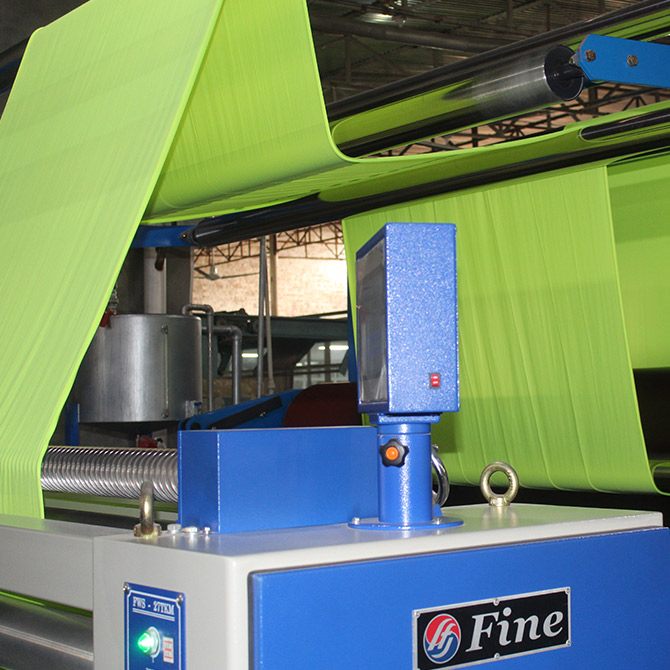 Our Finishing department comprises of automatic hydro-extractors cum slitters from Corino Italy for the removal of moisture from dyed fabric, computerized tensionless Santex and Fongs BSD dryers for instant fabric drying, fully computerized Italian Ferraro compaction machines for complete shrinkage control, and tumble dryers to give minimum shrinkage value.Again personal attention ensures that all the fabric leaving the finishing department is properly inspected and thoroughly checked for relevant factors before being forwarded to the next stage of production.
---
QUALITY CONTROL LAB.
Our highly qualified and experienced technicians work with the latest equipment to ensure international performance, safety and environmental standards are strictly adhered to in our manufacturing apparel for brands like Adidas, Under Armour and Fruit of the Looms, Rawlings, Alleson Athletic and Augusta Sports. . It ensures that the fabric quality is maintained according to the required parameters of our customers. Mukha Industries has documented a Quality Manual that states the quality management system, of the organization. Management establishes a documented quality plan setting out the specific quality practices, resources required and sequence of activities relevant to particular product. There are quality checks at every stage of manufacturing starting from Yarn, Fabric, Processing, Cutting Stitching and Packing. Before is cut, it is checked whether it confirms to the customer's standard, of shrinkage, GSM, Shade etc. The in-house lab is fully equipped and computerized. Lab has full capability to perform Colorfastness to Wash, Colorfastness to Water, Colorfastness to Rubbing, Colorfastness to Perspiration, Dimensional Stability, Spirality, Fabric Weight, pH value, Bursting Strength, Garment Durability and Print Durability test standards.
---
PROCESSING LAB
Mukha Industries Processing Lab is equipped with the worlds latest Automated Lab Dispenser "Robolab" with a least error margin of 0.0001%, Our lab has Latest Datacolor water and Air cooled IR Lab Dyeing machines. For color matching we have Latest Spectrophotometer by Datacolor and assisting software linked with production "SDM" by Sclavos.